If there are more then One human being at one place, there will be Conflict. Conflict Management/resolution comes in handy because life is too short to keep grudges in the heart. This article will go in detail on how to do dispute resolution and the process of solving a conflict.
To understand the 
conflict resolution model 
We first need to understand what is a conflict and how is it created.
Table of Content:
Definition of Conflict
How Conflict is formed
Different beliefs which cause the conflicts
Conflict management Exercise  or Icebreaker
The Inner Conflict
Conflict management strategies
How to Solve Conflicts
Benefits of conflict management
Definition of Conflict:
Conflict refers to some form of friction, or discord arising within a group.
Another definition of conflict is:
a serious disagreement or argument, typically a protracted one.
Now to better understand how to solve the conflict, We need to go to the core and know how conflict is formed.
How Conflict is formed:
Conflicts are not always bad, sometimes conflict can save you from a disaster, For example, if you were planning to invest in a business project which in your eyes was a great idea. One of your colleagues started resisting it because they thought it was not, now as a normal and natural process. You would not like that person who is having a conflict with you, but eventually, you get to understand that it was not financially feasible to invest.
Then you start thinking thank God that guy stopped me from investing, it would have been a nightmare if it was done. So this situation also occurred because of a conflict. In short, conflicts are not the problem, how we see them, "IS".
So what happens when the conflict is formed:
You are perceiving things differently than others (most often)
One of you is less experienced about that certain topic.
People involved in the conflict do not like each other.
Favouritism
Bad intentions
Mutual interest in something which is short in supply
Party is asked to do something which is against their rules of life.
Disrespecting leads to future conflicts
Also, there are different types of conflicts:
Interpersonal: Between people
Interpersonal: Inner Conflict (explained below)
Inter groups: Between Groups
Intragroups: Within a group
[su_note]Important note: Most of the times it happens because the people involved in the conflict are having different perceptions, no one is wrong, they just see things differently. if someone just dive in and let them see from the same angle, it gets resolved right away.[/su_note]
it's like the picture here: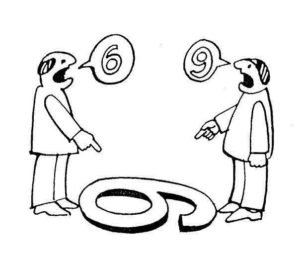 The below image is a nice Explanation (i must say) about the Formation of the conflict. have a look on it. it's quite self-explanatory so you can just have a look.
Now if someone just brings both of them to the same side, it will probably be solved.
But what about other reasons. like preferences. For example, You are selecting a template For your business presentations. (it should be a uniform template across) so you guys are having a conflict of which design suits the SLIDE Master better. (Know how to setup Slide master in powerpoint here) how to handle this situation, because after all its about your preferences, even if someone shows you the right angle, you won't agree because you don't like the design. here comes the conflict management process which is explained below.
There are two schools of thoughts on conflicts:
The number one: Thinks the conflicts are negative, bad and troublesome.
The number two: Thinks that the conflicts are unavoidable and cannot be ignored, the only way to live a happy life is to embrace it and learn from it.
obviously, you can see the difference, which one is better for the business and relationships.
Different beliefs which cause the conflicts:
As you may understand that beliefs sometimes may not be the reality, it's just something we think. So these are the different belief systems which may lead to conflicts in groups, which are:
Superiority
Vulnerability
Feeling of Helplessness
Injustice
Distrust
These are quite self-explanatory that is why I am not going in details here, but the point to make here is that these may cause a person to indulge into a conflict which is necessary to understand to solve a conflict.
Conflict management Exercise  or Icebreaker:
If you are a manager, trainer or a leader and would like to demonstrate how the conflict occurs due to different perceptions, this exercise is a no-brainer. I have tried this exercise with many people and found it to be really effective for the people to understand how people think of things differently even though the source, the tone, the pitch and everything else is the same.
The below video demonstration the dispute resolution core.
by letting the participants close their eyes
Follow some instructions
and see the result of each and everyone is different.
Have a look:
Formal Conflict management Processes:
These are the formal processes which were (somewhat are) used in solving conflicts, but I am here to explain you guys the most simple and easy to apply conflict management models.
DeChurch and Marks Meta-Taxonomy
Khun and Poole's Model
I will not explain to them as I am not in the favor of these, but you can always google them if you want.
The Inner Conflict:
Sometimes the conflict is within us, maybe because we have to decide on something, or our heart and brain are directing us to different dimensions if that is the case this is how to solve the inner conflict.
Write the options down which are confusing you.
Write pros and cons of both options.
try to decide rationally.
If you can't, let another (sincere) person sit with you and suggest you of the options.
If you still can't decide to go with the inner emotion. Emotions are a reflection of your subconscious.
Conflict management strategies:
Either it's conflict resolution in the workplace or conflict resolution in a relationship there are some proven strategies that work. (mostly). SO let's discuss the first and most popular process:
These are the ways to handle conflict and I will explain which one is better and why?
Collaborating:
This is the most successful of all, its synonym can be teamwork. You realize that working together is more efficient and productive, a very nice picture below can explain this in easy terms.
It's basically the realization that working together is better for both of the parties, how do you do it? is by many ways. like counseling, discussion, and agreements, where you let the other party realize that its good for both of us and maybe show them the above picture haha.
An easy example of Collaborative conflict management style is: If you were given a task where you and the other party are to do one task but you are not agreeing on the method of doing it. may decide to do half of it with your method and the other half with other.
Compromise:
This is second best, and best suits to the situation where the status of both parties are the same and both sides are not that demanding. It will give up something on your end and the other party will give up something on theirs.
A nice example of compromising conflict management style is: One department is frustrated because their work is becoming more difficult as the other department is not doing their job. The other department thinks it's not their job to do that task. An easy way to solve this issue would be to compromise and restructure the responsibilities of each other. They may have to compromise but the long-term outcome will be great.
Competing/Combative/force:
This style refers to the use of assertiveness which its the only option left, sometimes Combative management is necessary for the business and groups. This has to be exercised where the time is the most important factor. If not solved the conflict may be destructive for the company or relation.
Example of competing conflict management style is: when because of the group conflict the deadline of the project is reaching out, if goals are not met the company may face huge financial losses or in relationship when things are getting out of hand, by the use of rules you may force the person or group to do some task or there might be a strict action. Normally the consequences are being told and its clear that the other party is wrong. And not following the rules.
Accommodating:
When you feel there is more of a respect relationship then peer to peer. When you see that somehow you do not want to go into a situation where you may lose the other person it's better to accommodate. But not on the expense of self-integrity but the account of generosity.
Avoidant/withdrawal: 
When you see there is a loop of hopeless arguments and you do not see any type of long-term relationship just ignore. This is better for your health and mind. you are the better human. this is how it goes in life.
there is another viewpoint on this, people ten to ignore the conflict just to delay it because of the fear of confrontation, this may lead to serious problems later on so try and avoid this strategy.
to make it more clear on the quadrant of assertiveness and cooperation, the image explain very well on how does it happen:
How to Solve Conflicts:
The solution of the conflict is very important if its delayed it gets worse. This image is very simple to try this first before the actual process as sometimes its just as simple as talking to the other person. Always remember that the friendship is the best thing which could happen to anyone so value it.
Just stop and think, take turns, talk to them, accept it if it's your mistake, listen to the other person and show apologetic (loving) behavior, and voila, you have solved a conflict.
Now let's get on to the formal process. this step by step approach can be very helpful to solve any level of conflict until the intentions are wrong.
Step 1: Understand the background:
First and foremost thing to do for any kind of conflict is to understand why did it start? knowing the root of the problem will help you solve it. its simple yet the most effective method. Because understanding the reason of the conflict will let you know whether it was a misunderstanding or something else. To be honest, most of the times the conflicts are solved on this step as both parties understand that it was a misunderstanding.
You can simply ask the other party that you would like to understand the reason of the conflict, it's a common human nature that they like to settle down if given the opportunity. So if they get a chance they will.
Step 2: Explain your point of view:
Now that you have tried to understand what happened, take the opportunity to explain your point of view, how you saw things (or how were they presented to you) most often, the other person will speak up as well about how they perceived the situation. You may then explain to them how people can perceive things differently and its completely ok. No one is wrong or right.
Step 3: Explain your intention:
It may seem to be somewhat similar to step 2 but it's not. You then need to explain your pure intentions, you are not here to harm. Your decision was based on what you thought was right having that limited amount of information. but as you know more (assuming they may have told you their point of view) it opens more opportunities.
Step 4: Ask them for solutions:
It's a good diplomatic step, it balances the discussion as you were the one talking most of the times. Ask them for the solutions, you may be amazed by hearing many solutions that you may have never thought about. Sometimes asking for solutions puts the other person in the compromising situation, as the decision is upon them they may just accept what was the original decision based on how well you were able to explain.
Step 5: Agreement:
This step is simple, just finalize the deal and agree on what you guys have mutually decided and always stay with your words, don't be an idiot to deceive.
Step 5: Strategize:
After you are done, its always good to plan ahead, clear the bad air, strategize with the other party on how to handle the situation next time. So you don't have to go through all this.
Benefits of conflict management:
Not only conflict management solves the current ongoing issue, it also enhances some other things which are mentioned below:
Understanding: Once you have managed (solved) a conflict with the opposition, its likely that you understand there style of working/living. So its easier to handle them on a later stage. It also gives a better understanding to both parties on how to solve the issue the next time it arises.
Self-improvement: You get to know your self. often when you solve a conflict its kind of a self-enlightenment. You get to understand your self better than before and it opens up new unseen corners of your personality.
Better relationship: Be it word or personal conflict, you will see a better cohesion, better bonding between the two parties. It's natural but true.
You may want to add this site to your bookmarks to come back later on! thank!