Welcome to the inspiring world of Muddaser Altaf, a realm where passion, expertise, and charisma merge to redefine soft skills training and public speaking.
Introduction
Muddaser Altaf, a name synonymous with transformative soft skills training, stands as a maestro in the symphony of personal and professional development. Armed with an ILM UK certification and an MBA specializing in Marketing, he has not just carved a niche, but rather sculpted an edifice in the industry that towers in its majesty and relevance.
Imagine being part of a journey that does not merely teach but transforms, a voyage that nurtures your inherent skills and unlocks the chambers of limitless potential within you. Muddaser Altaf is your quintessential guide on this odyssey. He has trained and illuminated the paths of thousands, and their voices resound in unison singing praises for the profound impact he has had on their lives. The echoes of testimonials reverberate, highlighting life-altering experiences and an ocean of knowledge that they embarked upon with Muddaser. This knowledge doesn't remain a mere acquisition; it transcends into an integral part of their personal and professional DNA.
Dive into a realm where learning is an eclectic blend of science and art. Muddaser is not just skilled, but virtuoso in Hybrid Learning, E-Learning, Content Design, People Development, Technology, and Leadership. He is a result-oriented professional who has mastered the craft of orchestrating successful training operations. The finesse with which he develops procedures, constructs roadmaps, and establishes service standards is a testament to his unwavering commitment to business excellence.
But at the heart of this maestro is a storyteller. His trainings are akin to riveting chronicles that enrapture you. Every session is a tapestry of anecdotes, insights, and revelatory moments that make learning not just functional, but joyously immersive and fun. Muddaser's storytelling prowess makes complex concepts relatable and engraves them into the memory of his audience.
Now, picture yourself among the fortunate ones who have had their lives transfigured by this paragon of soft skills training. Imagine walking into a session as an eager learner and walking out as a reborn, empowered individual, ready to conquer the world with a newfound arsenal of skills and knowledge.
Don't let this remain a figment of your imagination. Make it a reality. Experience the Muddaser Altaf effect.
Enter the realm where the alchemy of transformation awaits your arrival. Be trained, be empowered, be transformed. Choose Muddaser Altaf.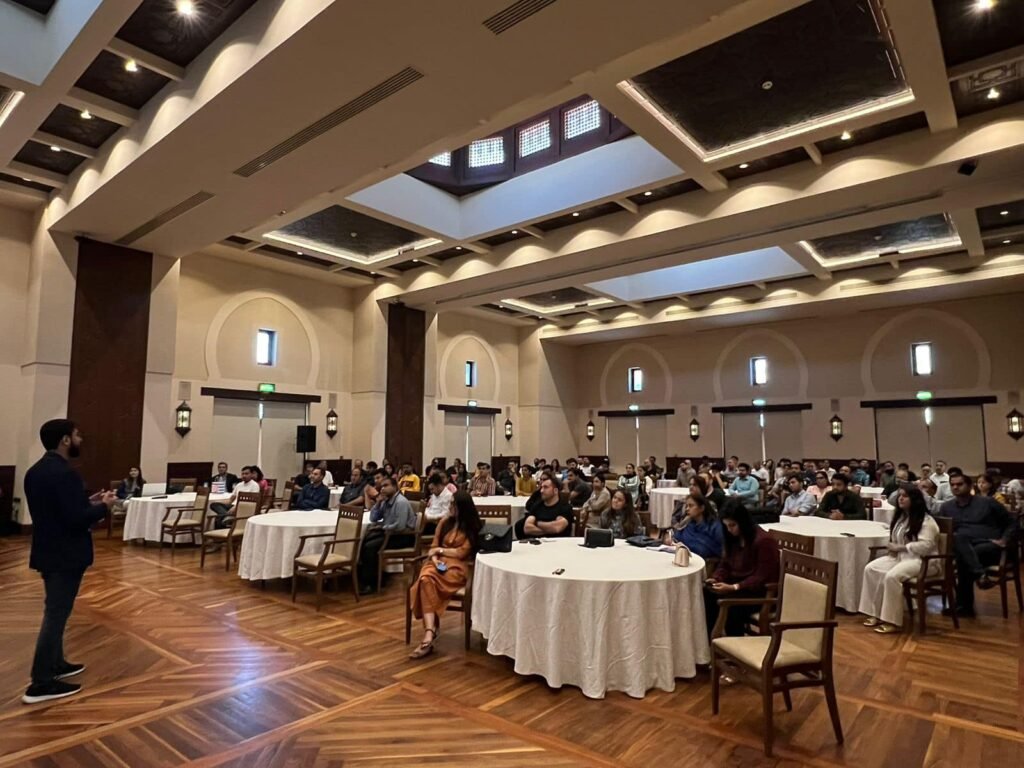 A Distinguished Career
DAMAS Jewellery, GCC (Dec 2017 – Present)
As a Senior GCC Trainer, Muddaser's role is much more than imparting knowledge; it's about touching lives and shaping careers. His innovative approach in incorporating experiential learning through training simulation courses has been ground-breaking. With a vision to make learning a captivating experience, he has successfully designed training programs that have a lasting impact on the trainees.
Etisalat (Jan 2013 – Dec 2017)
At Etisalat, as a Master Trainer, Muddaser was instrumental in nurturing and molding new retail sales staff. His incredible ability to assess training needs and design tailored training programs has been highly commended.
Freelancing (Jan 2010 – Nov 2012)
As a Freelance Trainer, Muddaser has been a guiding light for various entities in Pakistan. His freelance work encompasses a wide range of training and mentoring, which has been cherished by those who attended his courses.
Transforming Lives Through Training
Muddaser takes immense pride in having trained a diverse range of individuals from different walks of life. His impact as a soft skills trainer is profound as many have experienced significant improvements in their communication skills, emotional intelligence, leadership skills, and much more. His trainees often share stories of how Muddaser's training has transformed not just their careers but also enriched their lives personally. His empathetic approach, coupled with his extensive knowledge and dynamic delivery style, make him a sought-after soft skills trainer.
An International Perspective
Muddaser Altaf is not just a trainer; he is a global connoisseur with an exquisite palette for cultures. Having traveled extensively to countries including the UAE, KSA, Qatar, Lebanon, Georgia, Bahrain, and Oman, Muddaser has garnered a wealth of international experience. This experience has been pivotal in honing his unique ability to adapt and customize training and speeches according to diverse audiences. His extensive travels have given him the acumen to keenly understand various cultural nuances, and he seamlessly weaves this understanding into his training programs.
Being the aficionado that he is, Muddaser immerses himself in the local culture during his travels. He believes that true learning transcends borders and happens when you live and breathe the environment of the places you visit. By engaging with local communities, understanding their traditions, values, and languages, Muddaser enriches his reservoir of knowledge which is reflected in the quality of his trainings and speeches.
Furthermore, Muddaser's multinational audience benefits immensely from his multi-cultural insights. His trainings are often described as a tapestry of global best practices, enriched with localized content to resonate with the audience. This powerful blend not only captivates the audience but also provides them with practical knowledge that can be implemented regardless of geographical boundaries.
Muddaser's expertise in delivering culturally adapted content makes him an invaluable asset for multinational companies and diverse groups looking to foster an environment of cross-cultural understanding and collaboration.
If you are seeking a soft skills training experience that is not just informative but also globally relevant and culturally enlightened, Muddaser Altaf is the epitome of this blend. His trainings and public speaking engagements are not just sessions; they are cross-cultural journeys that will leave you enriched and empowered.
Beyond Training
Muddaser is not just limited to the world of soft skills training. He is an influencer, a YouTuber, and an avid Blogger. His YouTube channel is a treasure trove of insights on soft skills, technology, and travel. He is also an ardent believer in community building and has helped countless individuals through his videos.
Personal Life and Interests
When he is not transforming lives through his training, Muddaser is an explorer. His travels have given him invaluable life experiences. He is an enthusiastic storyteller, and his love for learning is insatiable. Muddaser also believes in the importance of work-life balance, which he achieves through reading, movies, and sports.
Join the Transformation
Embark on a journey of self-discovery and transformation with Muddaser Altaf, whose soft skills training goes beyond the ordinary and enters the realm of the extraordinary.
Connect with Muddaser
Email: muddaseraltaf@gmail.com
Website: Muddaser.com
Engage with Muddaser Altaf and experience the evolution in Soft Skills Training and Public Speaking. Let the metamorphosis begin!